Key West or Bust !
<![if !supportEmptyParas]> <![endif]>
The concept is simple:
A nice leisurely Memorial weekend ride from the Jupiter Florida Lighthouse to the Southern Most Point in Key West Florida on Chinese 150cc GY6 scooter: a one way distance of 250 miles.

People say ...
you are crazy: granted.
it can not be done: that remains to be seen.
it will take forever: just short of that actually.

I may be crazy but I am also realistic. This is to be a fair weather trip. In case of rain no trip. If there is a sign of
major mechanical failure then I turn around. If it becomes obvious that the top speed of the bike (55mph down hill) is too slow for the traffic encountered then I turn back.

Why a 500 mile rode trip on a low end scooter. It is matter of principle. One of the reasons American is in the grips of a fossil fuel crisis is that we tend to drive the most inefficient vehicles in the world. Switching from a 25 mpg four cylinder truck to a 75 mpg scooter as my primary transportation is not going to do a lot to resolve the problem. I will at least be part of the solution rather than the problem.
<![if !supportEmptyParas]> <![endif]>
I figure this little outing may put some light on just how practical a Chinese 150cc GY6 scooter is in the real world. The scooter in question is a totally stock Longbo Model LB150T-12 manufactured by Taizhou Chuanl Motorcycle Manufacturing Company, Ltd. purchased under the brand name "Sunflower" from Cypress Auto Center of New Iberia, Louisiana.
<![if !supportEmptyParas]> <![endif]>
Nothing ever goes as planned:
My original plan was to leave around 8:00 AM Saturday morning but two days before I was to leave a nut vibrated loose from  exhaust pipe where it connects to the engine resulting in continuous backfires. A permanent repair requires a special 23mm ring gasket that I would have to order on line. I spent most of Saturday morning looking for some high temperature gasket material. When I removed the pipe from the engine I discovered two other problems: the inlet and outlet were both obstructed by sloppy workmanship and the flange was bowed from the center out. A small hand grinder corrected the first problem. The second was corrected with a hammer and a elbow grease powered milling machine (aka a cross cut hand file). With the liberal use of permatex and a bit of luck I was able to  make an acceptable temporary repair. It was late afternoon before I was able to begin packing for my trip. As it turns out this was a good thing because it had been raining along my route earlier in the day. (I was able to complete my trip but both gaskets burned out in the end).
<![if !supportEmptyParas]> <![endif]>
Pack Lightly:
I do not have a top trunk on this bike and I want to keep the added weight to the minimum anyway. It turns out that I can get a change of clothes, swim suit (I am headed for Key West), a wind breaker, spare exhaust gasket material and a few tools in the compartment beneath the seat. I also carried a small camera bag with a Pentax DSLR camera, spare batteries, tooth brush and small items. Attached to the left mirror bracket was a Garmin Etrex Yellow GPS unit. This is the low end version. Its most useful feature is accurate speed measurement.
<![if !supportEmptyParas]> <![endif]>
Jupiter Lighthouse:
A full tank of gas, a few quick pics, a final check of the exhaust nuts, turn on the GPS and the trip begins at 4:30 in the afternoon from the parking lot of the Lighthouse in Jupiter, Florida.. I will make my first stop in Lake Worth so I can have a friend take a PIC  of me with my "Key West or Bust" t-shirt. The route is simple. Straight down US1 till it runs out, but this is Southern Florida. It is solid urban sprawl  from West Palm Beach to south of Miami. This part of the trip is mainly a race from one stop light to the next. The bike is in its element here as the speed limit is never over 55 mph and traffic rarely allows even that. In some areas the speed limit drops to 35 mph and in a couple of constructions zones I could walk faster. Of course there is the occasional delay for fender benders. This is NOT a trip for someone in a hurry. One must learn to slow down and enjoy the ride.
<![if !supportEmptyParas]> <![endif]>
Ft. Lauderdale:
After a couple of hours I arrive at Highway 838. A distance of 71 miles has been covered. The GPS unit shows that my speedometer is about 3 mph fast up to 55 mph. A short Break and we off again for Miami.
<![if !supportEmptyParas]> <![endif]>
South Miami:
My first fuel stop for both the bike and myself is in South Miami around 9:00 at night. One and one quarter gallons of gas for the scoot and a Checker's quarter pounder for me. I have ticked over 101 miles in 4-1/2 hours. It is too dark for the GPS so I turn it off. It occurs to me that this trip is going to take way too long and I have to make the return trip as well. Over the years Federal and State highways have been reduced to congested urban streets. The only practical way to cover any appreciable distance is to use controlled access highways. That would require a more substantial ride.
<![if !supportEmptyParas]> <![endif]>
Key Largo:
South of Miami the traffic thinned out and the traffic lights are a reasonable distance apart. I passed through Florida City after dark and was pleasantly surprised by how effective the dual head lights were. They point into a "V" with a bias toward the center line. High beams light up the road well ahead. There is a 20 mile long section of  US1 between Florida City and Key Largo that turned out to be most trouble of the entire trip (coming and going). This is a relatively empty stretch of 55 mph two lane road. I had the throttle cranked wide open and the engine was going for all it was worth but that was just under 55 mph. Faster vehicles do not like being stuck behind someone doing the speed limit. They have a tendency to pass even when conditions were not appropriate. This is dangerous for all parties. I quickly learned to watch for lights in the rear view mirror. Then I would slow down and ride down the three foot wide paved shoulder until traffic had passed. One really needs at least another 10 mph cruising speed for this section.
<![if !supportEmptyParas]> <![endif]>
The good news is that I spot US1 milepost 99 and know that I will be able to reach Key West. I am beginning to feel the distance in the southern most point of my torso and my right hand seems to be developing a few sore areas. I note that the raised areas of the throttle grip are spending most of the time in the palm of my hand rather than between my fingers. I decide to pull in to a circle K for a coke and short break at 10:30 PM.  All things considered that last 60 miles have not been bad.
<![if !supportEmptyParas]> <![endif]>
Marathon Key:
Riding through the keys is pleasant. The speed limit varies from 45 to 55 mph and there are long sections of four lane roadway. I am in fact keeping up with the slower traffic and generally have a vehicle in front of me. Sooner or later even the miserly GY6 needs some fuel. At 11:30 I pull in for gas about 50 miles north of Key West. Another one and one quarter gallons of gas for the scoot. I am going about 100 miles between fuel stops for an average of 80 mpg at top speed.
<![if !supportEmptyParas]> <![endif]>
Seven Mile Bridge:
Going South from Marathon is the Seven Mile bridge. Coming off the south end of this bridge I was able to get the speedometer wrapped up to 62 mph. By my estimate that is a top speed of 59 mph (down hill).
<![if !supportEmptyParas]> <![endif]>
Deer Key:
Around mile post 31 is Deer Keys. This is the home of the smallest deer in North America. These people take their deer seriously. The night speed limit here is 35 mph. If you are ever down this way keep that in mind because it IS strictly enforced. I am happy to say that I do not have the tickets to prove it.
<![if !supportEmptyParas]> <![endif]>
Key West:
One half hour past midnight I roll up to the marker for the Southern Most Point. Two hundred Fifty miles in eight hours for an average speed of just under 32 mph including stops. My butt is tired (and I mean that very literally). Note that I averaged 50 miles per hour for the last 100 miles.
<![if !supportEmptyParas]> <![endif]>
No Room At the Inn:
No room at any inn. I did not make reservations because I was not really sure that I would make it all the way to Key West. I decided to redistribute my load such that the valuable stuff was locked under the seat and go have a coke at Captain Tony's. After a short rest I ran back up US1 about 15 miles to see if I might find alternate accommodations. No Joy. Back down to Key West and a coke at the 801 Bourbon Club (always an interesting place to kill a few minutes). If I can make it through the night then I might find a B&B on Sunday. I head north to the first fishing bridge figuring people are parked there all night anyway. I pull off the side of the road, park the bike on the shoulder and select a piece of ground. About ten minutes later the local police come by and object to my impromptu sleeping arrangements.
<![if !supportEmptyParas]> <![endif]>
Go North Young Man:
Well I am not young anymore but the message was the same. I head back north at 3:30 AM after another fuel stop. I stopped taking notes and tracking the mileage at this point. At least there is no traffic to deal with and I can pretty much travel wide open. At Islamorada, around mile post 80, there is an old section of US1 west  of the current road with some concrete picnic tables. My room for the night had excellent skylight and a very firm bed. Old man sol gave me a wake up call around 7:00 am. I stop again in Florida City and discover laying back on the seat with my helmet on the pack in surprisingly comfortable. Another two hours of shut eye. The rest of the trip back was pretty much as the trip down in reverse with two exceptions. One was that I was wearing a short sleeve shirt and got my arms well sunburned. The second was I went into the Vespa Dealer to get out of the sun for a while. That turned out to be a very expensive stop.
<![if !supportEmptyParas]> <![endif]>
Conclusions:
I proved my point: the Chinese GY6 150cc scooter is capable of a 500 mile round trip if one does not mind it taking a while. The terrible seat design does get very uncomfortable. I am six feet tall and 150 pounds. I tend to sit at the back of the drivers area of the seat. That puts me sitting up on the slope of the seat and constantly sliding down. Moving back a bit further puts me on top of the ridge line of the seat making for an uncomfortable pressure point. The seat may be fine for someone  under five foot six inches tall or for someone with enough weight to "crush" the padding to more comfortable shape. It would be much better if they would raise the front and level the profile.
<![if !supportEmptyParas]> <![endif]>
Speed is limited to 55 mph at the top end with a realistic cruising speed of 50 mph. This is fine for the urban environment and the occasional stretch of open highway. Acceleration is very good up to about 40 to 45 mph. In fact at the low end the GY6 150 will be down the block before most four wheelers get across the intersection. The brakes are excellent and brings the bike to a quick stop even from speed, but the front end will dive on hard braking (to be expected). Low speed handling is what one would expect from a short wheelbase light weight two wheeler…just can not be beat. I find it just a bit light handed at the top end. Suspension is a good compromise and smoothes out the bumps a bit better than my Vespa GT200.
<![if !supportEmptyParas]> <![endif]>
I was impressed by how well the head lights worked on such a low cost bike. They do however dim at idle. I very much liked the arrangement and operation of the controls particularly the light switch and turn signals. They are very intuitive. By the way to cancel the turn signal just press the switch. The placement of the front turn signal make them visible to the rider. You do not need to look at the instrument panel to see if they are on .. it is obvious. The gas mileage was a solid 80 mpg for the entire trip. Very good considering I was running flat out most of the time. Documentation, fit and finish leave something to be desired, but the fact that it can complete a 500 mile round trip says a lot. I must conclude that for the money spent the machine gives a better than average return.
Pictures:
<![if !vml]>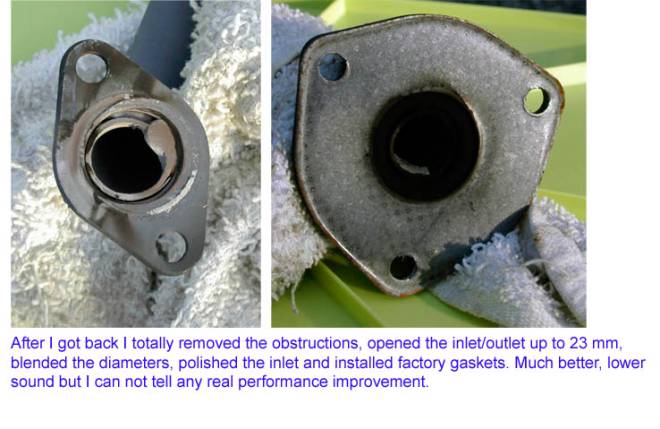 <![endif]>
<![if !vml]>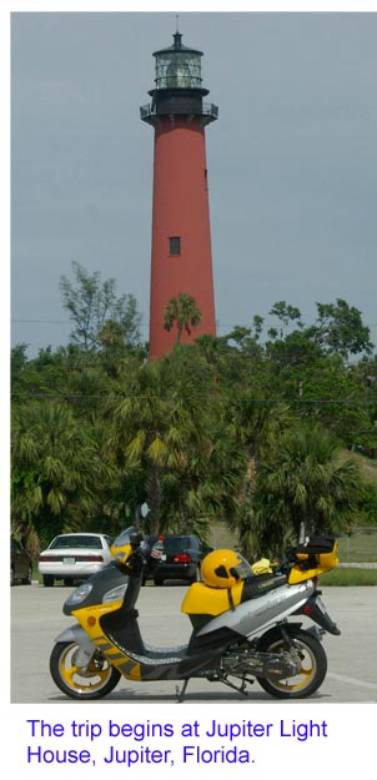 <![endif]>
<![if !vml]>

<![endif]>
<![if !vml]>

<![endif]>
<![if !vml]>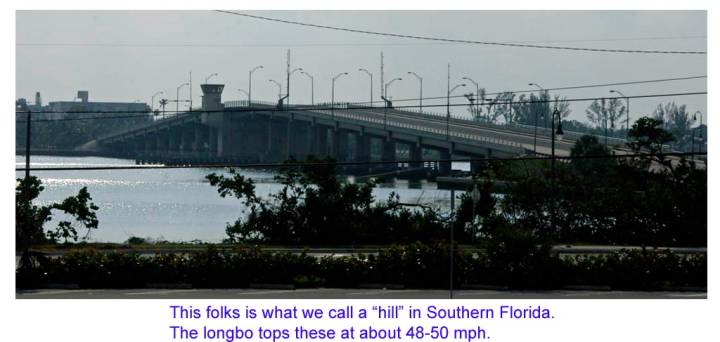 <![endif]>
<![if !vml]>
<![endif]>
<![if !vml]>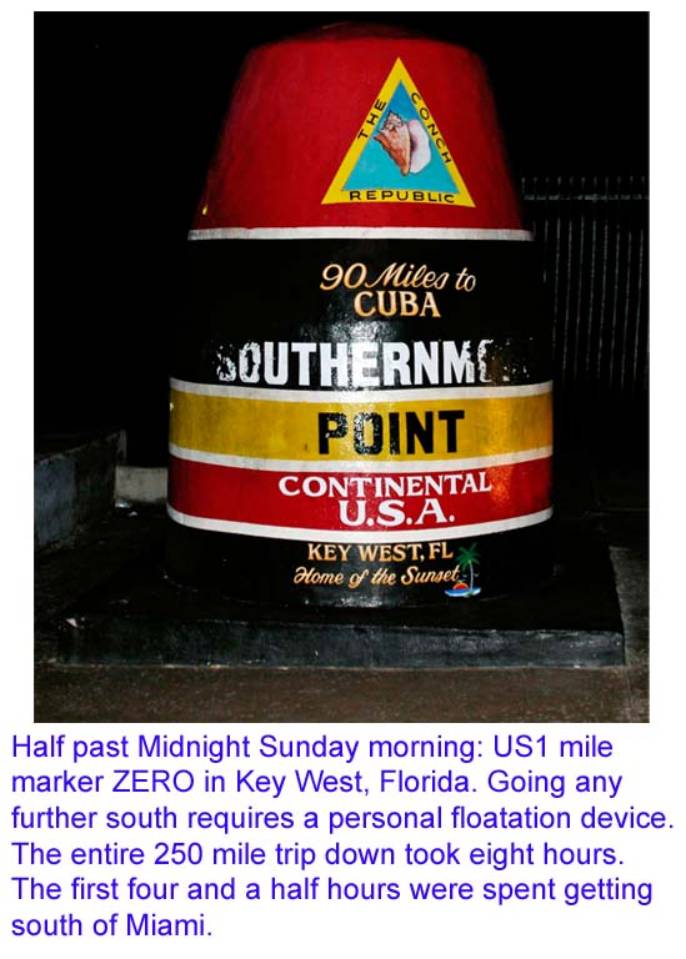 <![endif]>
<![if !vml]>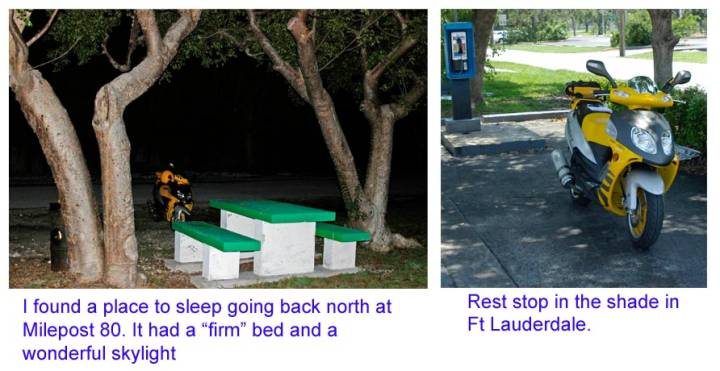 <![endif]>
<![if !vml]>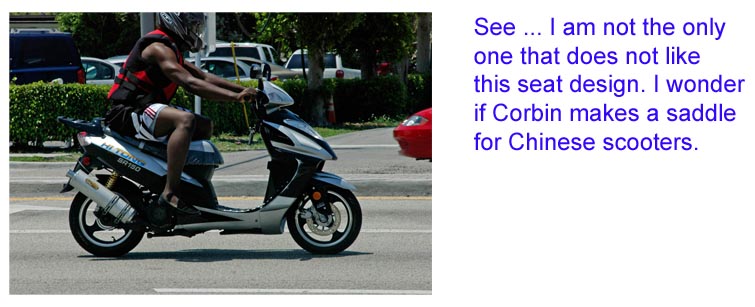 <![endif]>
<![if !vml]>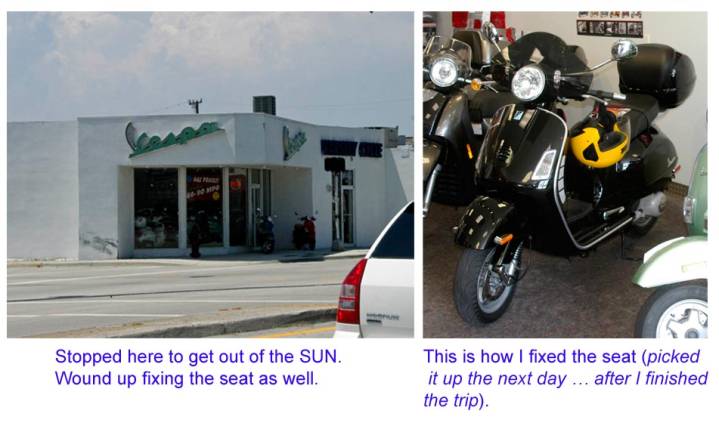 <![endif]>
<![if !supportEmptyParas]> <![endif]>
Links:
ScootDawg.Com A web site for scooters particullary Chinese GY6 scooters.
<![if !supportEmptyParas]> <![endif]>
Cypress AutoCenter. Where I purchased the "Sunflower" scooter.
<![if !supportEmptyParas]> <![endif]>
Varsity Cycle. Where I purchased the new seat (Vespa GT200).
<![if !supportEmptyParas]> <![endif]>
<![if !supportEmptyParas]> <![endif]>
Downloadable Maps fo the Florida Keys
<![if !supportEmptyParas]> <![endif]>