MEADE ETX60 REFRACTOR
lewtwo@bigfoot.com
This is another telescope I got off of EBAY. It was brand new in the box, but he computer controled positioning system in the base and the fork did not work. It is a air spaced doublet refractor with a 60mm objective, 350mm focal length and a focal ratio of f5.8. This scope has a built in flip mirror system. For these picture I used the vertical port. One problem I had with this scope was the awful focusing mechanism. It is that little bitty knob on the back. You need to turn that thing about 60 revolutions to go from one end of the focal range to the other. Real pain in the backside. The current model of this telescope is the Meade ETX70.
(Click on the image for a larger picture)


Shot with the Nikon 995 at full open (wide angle).
(Click on the image for a larger picture)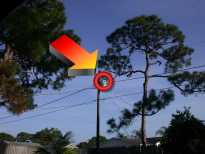 Shot with the Nikon 995 at full zoom (4X).
(Click on the image for a larger picture)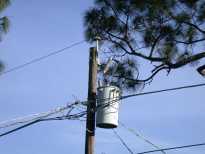 Shot with the Nikon 995 and ETX60 at full open (Wide Angle).
(Click on the image for a larger picture)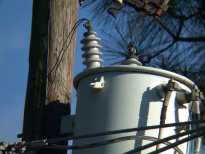 Shot with the Nikon 995 and ETX60 at 50% zoom (2X).
(Click on the image for a larger picture)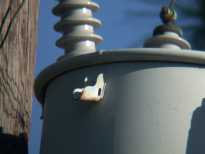 Shot with the Nikon 995 and ETX60 at full zoom (4X).
(Click on the image for a larger picture)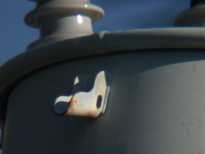 Well now the results are not half bad. There are however some problems. This is not a good terestrial scope You can not use an erecting prism diagonal on the back because it does not have the focus range. Worse yet is that tiny little focus knob. The non-working base is at this point dead weight. A few changes are in order.
Well I got out the hacksaw and went to work on the scope. First off the it was removed from the base and mounting pieces on each side removed. A 1/4-20 aluminum insert was fabricated and glued into the end of one of the mounting pieces. That piece was glued to the bottom of the scope. To adjust the focusing range, I cut 2-1/2 inches from the OTA. I also removed the internal baffle as it now hit interfeared with the front lens assembly. I tossed the focusing rod and knob. Focusing is now down by push/pull of the lens assembly (just like a old fashioned spy-glass). Lastly I added a open red-dot targeting scope.
Here is the end result.
(Click on the image for a larger picture)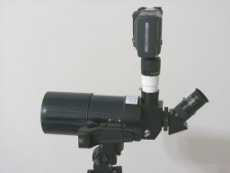 21 March 2004
The white plastic thing between the camera and the scope is a 1-1/4 bathroom sink drain tube (it happended to be handy and the correct size). It is used to extend the eypiece on top so that both eyepieces focus at the same point. The idea being one can target and focus through the rear ... then shoot. I took it out to the beach for a field test but forgot the "extend-a-view". Thus I was shooting blind because the CP995's LCD screen is useless in bright sunlight. My second problem is everyone else had the same idea. They closed access to the parks at Jupiter Inlet. I went down to Carlin park and it was nearly as crowded. We have too many tourists in Florida.
This was the best I got (cropped and heavly processed).
(Click on the image for a larger picture)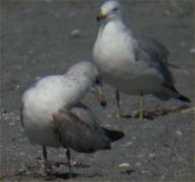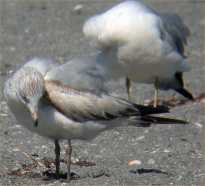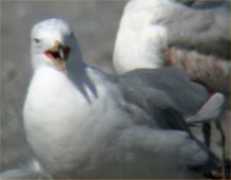 Unfortunately the scope met with an accident in the parking lot. The objective lens assembly came off the scope and came apart. I think I have got it back together right ... or not. Time will tell.